5th Virginia Infantry, Co. A
"The Marion Rifles"
The Marion Rifles were organized in 1857-1858 in Frederick County, Virginia. Commanded by local physician Captain John H. S. Funk, the company drilled and maneuvered in the Winchester countryside. They initially had no militia status, but the company was uniformed and achieved some public recognition. On July 4, 1859 at morning ceremonies held in front of the Winchester Court House, a silk stars and stripes flag was presented to the company by the ladies of Winchester. Afterwards, under the command of Lieutenant Arthur S. Markell, the company marched to a holiday picnic. During the John Brown crisis in late 1859, the Rifleman, 56 strong, were called out by Virginia state authorities and spent six days on active service.
With the onset of Virginia's secession, the Rifles were accepted into the service of Virginia on April 18, 1861 and immediately marched to Harper's Ferry. In the coming weeks, they joined with other Virginia Militia companies to form the Fifth Regiment of Virginia Volunteer Infantry. The Fifth would later join with the Second, Fourth, Twenty-Seventh and Thirty-Third Virginia Regiments to form the First Virginia Brigade under the command of Brigadier General Thomas J. Jackson. After the First Battle of Manassas, this organization would become forever known as the "Stonewall Brigade", and was involved in most every major engagement in the eastern theater of the war.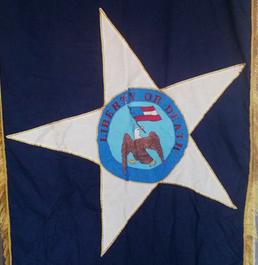 The 5th Virginia Co. A is no longer an active unit in the reconstituted Stonewall Brigade. Those interested in reenacting with the brigade are encouraged to contact the 4th Virginia Co. A or 33rd Virginia Co. H.