Join Us
Thank you for your interest in joining the Stonewall Brigade. A myriad of different elements attract people to reenacting and different reenacting units emphasis different parts of the hobby. We'd like to tell you a little about our approach to reenacting so you can determine whether the Stonewall Brigade is a good fit for you.
Our Mission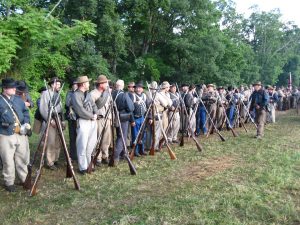 The Stonewall Brigade is a progressive/authentic campaigner reenacting group dedicated to portraying the common Confederate infantryman. We strive to present an authentic, research-based impression of the individual soldiers of the Civil War, to serve as an educational resource for the public, to preserve and interpret history, and to honor the memory of those we portray. Although we are frequently called upon to portray a variety of Confederate units during events, our primary impression whenever possible is of the original Stonewall Brigade.
The Stonewall Brigade was formed in 1980 and serves as an umbrella organization currently encompassing two member companies, the 4th Virginia Infantry Company A and the 33rd Virginia Infantry Company H. The Brigade currently has around fifty members and, during Brigade events, our two member companies merge under our Brigade Staff's leadership to portray a single Confederate infantry company. Both of our two member companies have a slightly different personality and have different procedures for unit dues, etc… Which company you join is entirely up to you, but many new members will start with the unit closest to their home area. You can easily switch if you find another company is a better match for you. The 4th Virginia Co. A is concentrated in the Shenandoah Valley, Maryland, and southern Pennsylvania. The 33rd Virginia Co. H is concentrated across Northern Virginia, particularly around Leesburg and Manassas, and stretches into central Virginia.
Our Events
The Stonewall Brigade participates in three types of events each year. First are our Brigade events, when we encourage all our members to attend and we form a full infantry company under the leadership of our Brigade staff. There will usually be around five Brigade events a year, including our annual Winter Quarters, a spring camp of instruction to practice drill for the coming year, and several medium or large battle events. The Stonewall Brigade is a proud member of the Southern Division, the premier Confederate campaigner organization on the East Coast, and our Brigade events often include working alongside other Southern Division units to form battalions and brigades for larger reenactments. Second, we have smaller events organized by our member companies. These are frequently small living history events at local historical sites and battlefields, where the focus is on educating and interacting with the public. Although these are sponsored by just one of the member companies, all Brigade members are welcome to attend. Finally, due to our relationship with a variety of other reenacting organizations, our members are frequently invited to attend their events as individuals outside the Brigade's organizational structure. To see our current calendar, click here.
How to Join
Individuals interested in joining the Stonewall Brigade should fill out the contact form below or reach out to one of the member companies directly. We will work with you to identify an event for you to attend to allow you to better determine if reenacting with the Stonewall Brigade is a good fit for you. For this first event, we will provide you the uniform, equipment, ammunition, and rations you'll need for the weekend – you just need to show up and have fun! Some of our members come to us from mainstream reenacting organizations, looking for a more authentic experience. Others are entirely new to reenacting. Either way, if you decide the Brigade is a good fit for you, we'll work with you and provide you the resources to begin building your impression, buying gear, and learning the basics of drill. 
We look forward to welcoming you to our ranks.
Frequently Asked Questions